Making The Rod
After deciding which taper I am building, an appropriate culm of seasoned bamboo is selected from stock, the density of power fibres should be sufficient to provide the strongest possible strips for planing.

The culm is then flame tempered, heated over a flame, to drive out remaining moisture and to alter the structure of the fibres, which imparts greater strength and stiffens the bamboo. Incorrect tempering will create a blank which is either too soft, or too brittle for use.

Once the culm has cooled, it is cut into section lengths and then hand split. The knife used for splitting is called a froe, but I have an extra technique I like to employ which improves the accuracy of the split and keeps the fibres running the way I like through the strips of bamboo. Once this has done the spacing of the nodes can be calculated and the strips are cut to planing length.

The strips are then carefully straightened by hand using a small meths lamp for heat, the nodes (bands around the bamboo) are carefully pressed to increase strength at this weak spot and to take out the kinks in fibres.

The final 18 - 24 strips going into the blank, are then rough planed into an even 60º triangle along the length using a low angle block plane and a rough planing guide.
The next step is to set up the adjustable planing form, it is this tool that enables me to plane each strip to the exact dimensions required to assemble the blank at the correct taper. Fly rod blanks are not a straight taper, but a compound taper with each 5" section designed to support and interact with its neighbours to create a unique action. A little more weight in one spot, a little more spring in another.

The sections all go through two stages of fine planing, the final stage brings each strip to within 0.001" of the required taper, all done with a razor sharp block plane.

Next the sections are glued, bound and straightened before being hung to cure for a week.
I use the same glue that was used to build the De Havilland Mosquito during the 1940s, this resin provides unrivalled strength and resilience to extremes of temperature and moisture. If it can hold together a wooden fighter capable of over 400 miles per hour level flight, then it can take anything a fish can throw at it.

After the blank has had time to cure, the string bindings are removed and the finished blank is ready for final straightening and finishing.
A high quality nickel silver ferrule is fitted, the cork grip is shaped and glued in place, as is your choice of reel seat on a selection of temperate hardwood spacers. The blank is given three coats of high grade varnish before the guides are fitted using the best quality silk available, the silks are given a further four coats of varnish and the rod is then left for a further two weeks to allow the varnish time to cure.

It is then ready to deliver.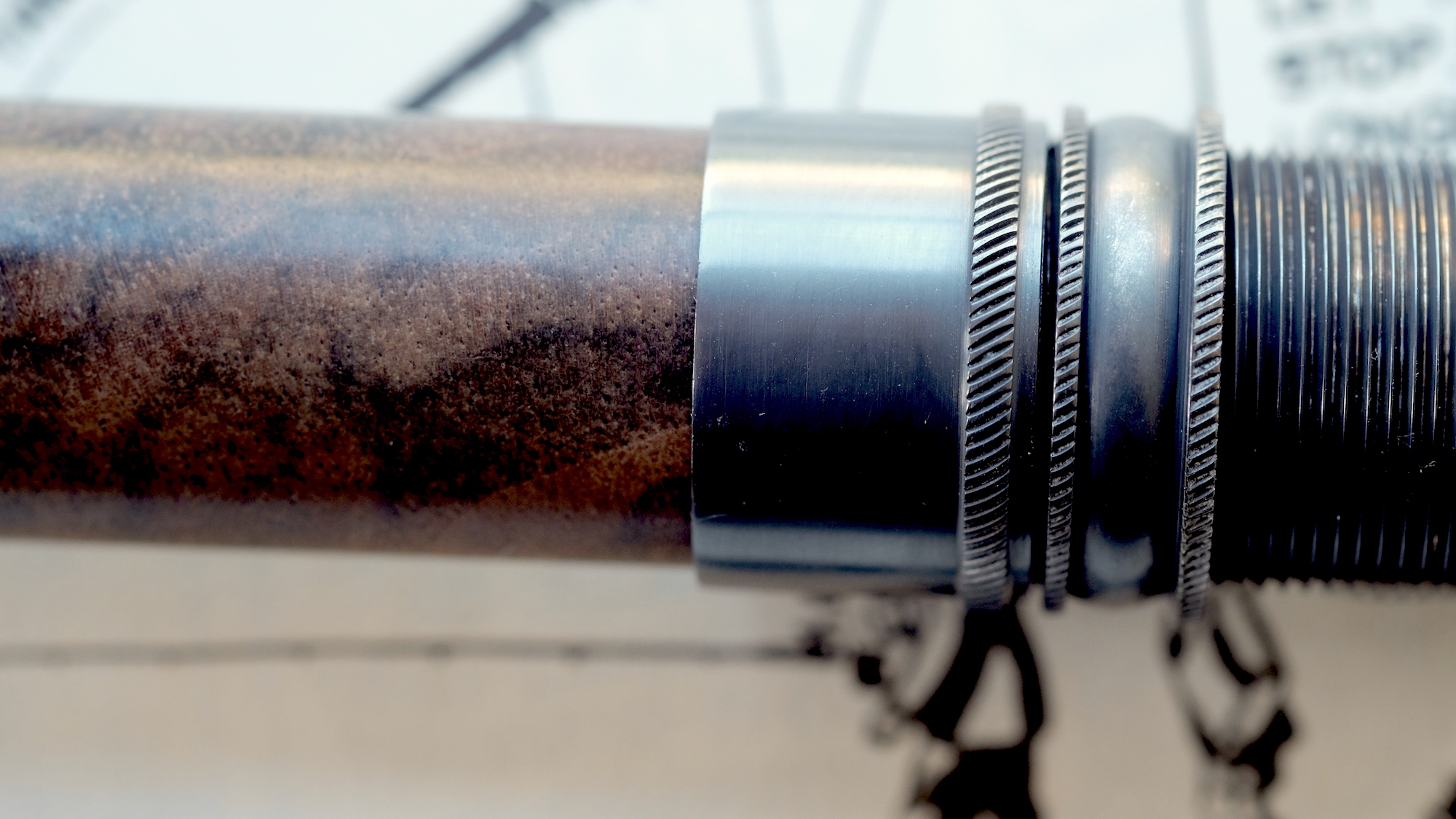 Materials
Silk
I use a few brands of high quality silk for my rods, there are a wide variety of colour options but I personally prefer the traditional claret, light olive and browns. You can have anything you like provided it is available in a high enough quality.

Cork
The highest quality flor grade cork available is used for the grips on my rods. Each one hand shaped by me, grip length is variable by 1/4" increments, so if you like a longer or shorter grip that can be designed in, as can the bulk so if you have particularly big paws the grip can be built to be more comfortable.

Guides
I use traditional snake wire guides on all my trout and salmon rods, in either stainless steel or dark bronze coated. The stripping guides are a traditional profile agate mounted in bronzed nickel silver.

Reel Seats
You can have the choice of either up locking or cap and ring reel seats on hardwood spacers. My preference for woods is for native northern hemisphere trees, so walnut, maple and cherry. As pretty as tropical hardwoods are, there really isn't any justification for their use when our native woods work so well.

Ferrules & Fittings
All the other fittings are in high grade nickel silver and supplied by the foremost specialists, there is no room for low grade components and these are simply the best money can buy.